Welcome!
Shamrock Pines is a newer residential subdivision located in the enchanting coastal town of Gearhart, Oregon.
Once only accessible by train from the "big city" of Portland, Gearhart is now a quiet hideaway from the hustle and bustle of not only larger cities, but even the more tourist-oriented nearby towns.
It's a short walk or bike ride to Gearhart's beautiful, long sandy beaches littered with shells, whole sand dollars and driftwood. You'll often find yourself nearly alone to stroll and contemplate the sand between your toes, that is, until razor clam season opens. Then the whole area turns out to dig their golden feast.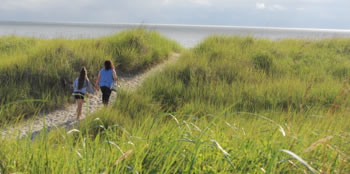 Centrally located on the northern Oregon coast between three diverse sub-cultures, folks in Gearhart enjoy almost any entertainment afforded people living in big cities. To the north is the seaport town of Astoria where fishing and crabbing are the main industry. There are great restaurants, services and a farmer's market during the summer months. To the south is Seaside, a fun, family-oriented "Coney Island" type of town. Seaside further claims the best surfing beach on the Oregon coast known as "The Point" at its south end of town near the Cove. Further to the south (but only 9 miles away from Gearhart) is Cannon Beach, a very popular tourist destination which leans more towards the arts and theater.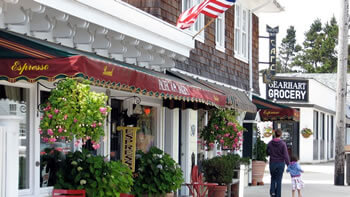 Gearhart itself is a quiet, family-centered community that straddles Highway 101 with an old-fashioned "downtown" on the west side. We feel that we have the grandest, non-motorized 4th of July celebration, a mile long walk/bike/dog stroll/parade where every homeowner turns out, resident and transient alike. It's a true slice of Americana on the west coast, complete with free hot dogs and pop at the fire station.
Shamrock Pines is located in the center of all of these wonderful choices.
Many of the town's people refer to Gearhart as the western Cape Cod. We like to think of Cape Cod as the eastern, more developed, slightly less attractive Gearhart.
Shamrock Pines is a lovely and captivating place to live. If you have questions or wish to leave a message please don't hesitate to contact us!